What's the difference between a Slushie machine and a Daiquri Machine?
There is no difference between a Slushie (Slushee or Slushy) machine, cocktail machine or daiquri machine, they are all the same thing just called different names depending on the company or what other people know them as.
How many drinks does it make
Our Twin bowl machines will make 12 litres per side; with our serving size of 200mls you should get approximately 60 serves per side, That's 120 x 200ml drinks.
Can I purchase extra Slushie or Cocktail mixes?
Yes you can! You don't want to run out half way through your party, so you can add extra mixes to the machine during your party. Additional pre-mixes are available for both the kids and/or Adults at a unbelievable price of just $30.00, and at these prices, why wouldn't you add 1 or 2. You can choose from our Adult Cocktail Range and our Kids Flavours Range. Please also note that if you do not use the extra mix, don't worry we will take it back and refund you for it.
Can I make one side with alcohol and the other side without alcohol?
Yes! you can choose flavours from both the Kids and Adults selection! Have one side filled from the Adult's selection ready to add alcohol (if you wish) or if your not adding alcohol, simply choose from either the Kids or Adults selection for a refreshing taste that all will enjoy.
What PERCENTAGE of alcohol volume would our Cocktails end up being!
1 x 700mls of Alcohol approx equates to 3 - 3.5% Alcoholic Cocktail
1 x 1 Ltr of Alcohol approx equates to 4 - 4.5% Alcoholic Cocktails
ALSO NOTE: Alcohol doesn't freeze, so the more alcohol you add to our premix flavours the longer it will take to "slush up" or if too much added over our suggested it may not freeze at all.
How long will it take to get all icy and ready to drink?
Your slushie machine will have your mix all iced up and ready to enjoy in a few hours! But it is dependant on the conditions placed in. For best results do not have in the following...a cramped area or no ventilation or non air conditioned area. Also note that our machines MUST be fully under cover and out of direct sunlight.


Where can we place any equipment ordered?
ALL equipment MUST be undercover and out of the elements of the weather.
What is Included in the service?
Get Slush'd offer a hassle free experience, just what you need when all you want to do is enjoy that special time. We Deliver & Set up the machines, and we Pick up again the next day or day after (depending on delivery schedules). We even take care of cleaning of the machine! (Cocktail/Slushie machine only)
Is there any other costs?
There is no additional costs to the normal service, however all hires over Public Holidays "may" carry a $50.00 surcharge
What area's in brisbane do you cover?
Our free delivery service covers an area of 35kms from the CBD.
Do I need a special table or Bench to put it on?
Our frozen Cocktail/Slushie machines weigh approx 100kg, so they are delivered to you on one of our "easy to manage" unique designed trolleys, specially designed by us, to make it nice and easy for you - the customer!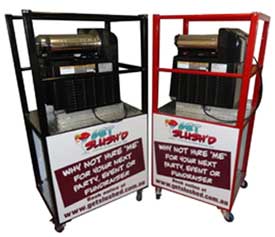 If the liquid runs out during the night, can we add our own cordial or soft drink to the cocktail machine?
No, PLEASE DON'T add your own mix to the cocktail machines. All our Cocktail and Kids pre mixes require a specially formulated mix so that it freezes at the right consistency. If you add your own mix it may not freeze at all, or it might freeze too much and break the gear box in the cocktail machine, and you would then be liable for the repairs.
If you are concerned that you may run out of cocktail mix during the night, you can order extra refills for your cocktail machine. If you don't open them and don't use them, you wont be charged for them.
What are my Payment Options?
You can pay for your order online by credit/debit card or Pay Pal during the Online Booking Process, you can also pay by Direct Debit or Cash on Delivery if you wish.
When will equipment be delivered or collected?
Our spit roasts are delivered the day prior to your event date, our other party equipment delivery schedule is normally on the day of your event and collected the next day, however over busy periods we may deliver some Saturday orders on Friday with collections either Sunday or Monday (no extra charge). Our delivery service over weekends is normally from 9am - 3pm. We will email you a few days prior to your event date with an accurate Day and time of delivery as well as your collection times. We will also send a PRE-ARRIVAL text prior to arrival on both delivery and collection, this is usually 20mins prior.
If you are having your event at a hired venue please note that delivery could be 1st up, meaning 9am or 9.30am on site, if your venue opens later than this we need to be advised in the comments section when you book online.
PLEASE also note that we DO NOT deliver to parks and most of our Party equipment will not fit into a normal size vehicle or van, also our insurance on our equipment is not covered by third party carriers.
Please note that late evening or early "am" pick ups are also available, however this service does carry a surcharge of $70.00 and will be subject to discussion prior to accepting your booking, but is great especially if you have hired a hall and have to be out at a certain time.
We deliver all our hire equipment in a methodical route planned process so we are not crossing all over the city or having multiple same time requests for delivery/collections from hirers, hence we email delivery and collection times... if you have to make a special delivery or collection time outside OUR normal delivery route process a fee of $70.00 may apply.
Does someone need to be at the venue when equipment is delivered?
For all equipment Yes, someone does need to be at the delivery address when your order is delivered as we need our paperwork signed and to run through equipment operation.
Can we plug any of the Equipment into a Generator?
No, All our equipment is sensitive to power surges and/or sudden loss of power, therefore we do not permit the use of a generator with any of our equipment.
So how do I order?
Ordering is a simple 3 Step Process! Simply Select the Party Item/s that suits your needs, if your booking is for one of our Cocktail/Slushie machines you can select any extra flavours or extra cups & straws you'd like to add to your booking, and send your order! The hardest decision you have to make is what flavours you'd like to indulge in!
What are the Terms Conditions?
You can view all of our Terms & Conditions HERE.